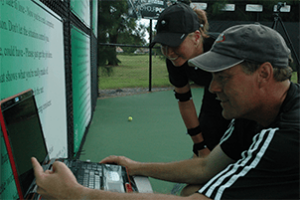 TCPR has assembled experts from across the spectrum of tennis player development and performance in order to provide the most complete training environment possible for our players. We believe developing athletes benefit from informed collaboration in developmental decisions and programs.
The TCPR team also believes that many players and coaches outside South Florida could benefit from our experience and research but are unable to train with us at our research center. Therefore, many of our specialists welcome the opportunity to assist developing players remotely though online consultation.
Consultation with a member of our team is a powerful way to get a second opinion in a particular development area or guidance in a performance area not addressed in a current training program. Currently Dr. Brian Gordon (Stroke Biomechanics) and David Bailey (Footwork and Movement) are available for consultation services. Other expert team members will be added to the list throughout 2019.
The process is simple. The first step is to contact the TCPR specialist providing the expertise desired by selecting the name link under "Consulting Services Offered" (or select the specialist from the "TCPR Specialist" list under TCPR Headquarters in the main menu) and completing the contact form.
Based on this contact, if it is determined that consultation would be useful, registration for the consultation package can be completed. After the registration process is  complete meeting times can be coordinated. The meetings will be held using video conferencing software.
Instructions for using the video conference interface will be provided at the end of the registration process. In many cases, the TCPR specialist may ask for submission of video or other supporting documents prior to the consultation – they will instruct how to submit these items.
Consulting Services Offered